EHR.Network Terminology service APIs to be integrated by Dofody in their platform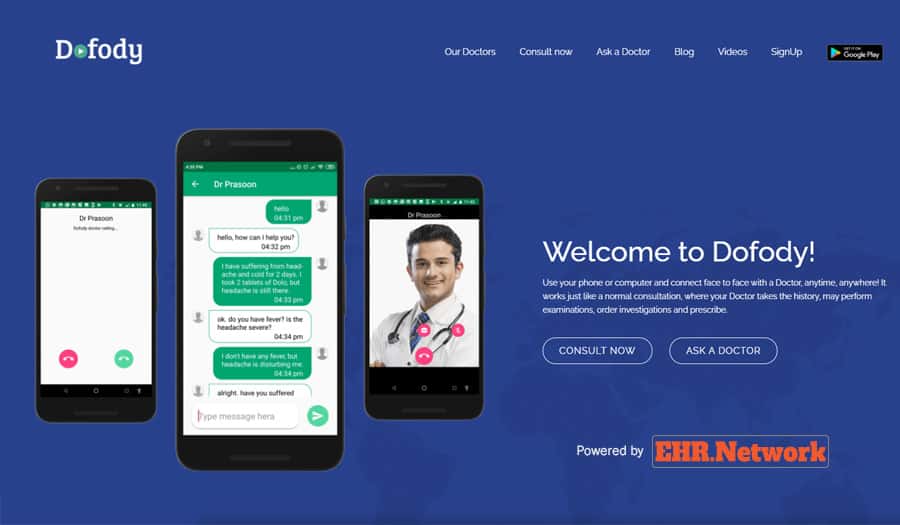 Dofody, a major provider of telemedicine solutions will be integrating the Terminology service APIs from EHR.Network in the upcoming upgrade to their platform. Final touches to the updated platform is progressing fast and will be released over the next few days.
Dofody stands for "Doctors for everybody" and works with a mission to make that possible. The following quote from their website explains the business philosophy behind the company
"Instant and affordable quality healthcare for everyone in India, whenever and wherever they want it, made possible with the help of innovative technology, that's what Dofody is all about. Our beloved country is growing at a tremendous pace and so is the need for accessible and affordable healthcare."
Keeping the Indian EHR standards, Telemedicine Practice Guidelines(TPG) and the recent announcement of NDHM in view, the team Dofody started work on the current upgrade aimed at improving the standards compliance of their platform.
As the work started on the update, they faced serious difficulties in the integration of SNOMED CT for the coding of clinical data. The learning curve in understanding SNOMED CT technology and integrating this extensive library into their application seemed to be a major challenge for the young team at Dofody.
How our Terminology service APIs are helping Dofody
Dofody team reached out to us for help & support and we offered them a subscription to our Terminology service APIs to get going. Our simple to use APIs, developer friendly documentation and free developer resources such as postman collection has reduced the learning curve for them. With one big problem out of the way, development team has been able to focus on the great disruptions that they are planning to create at Dofody.
Now that the problem looks simpler, Dofody team is confident of being able to make this integration deeper and cover more clinical modules.
Developer friendly APIs for your terminology coding requirements
Our Terminology service APIs are aimed at simplifying the complex problem of SNOMED CT coding of health records. It is aimed at making things easy healthcare innovators and application developers. This service provides a set of simple to use REST APIs that can be used to readily integrate SNOMED CT lookup & coding in your applications.
You do not have to learn about SNOMED CT, setup and run servers, design your queries and keep your server updated with new releases. We take care of all of the above and more to give you a ready to use, updated service and supported by developer friendly documentation. Sign up with us and take the next important step in making your application EHR standards compliant and forward looking.
More about EHR.Network terminology service