Indian EHR Standards – Part5 : Terminology and coding systems for semantic interoperability of EHR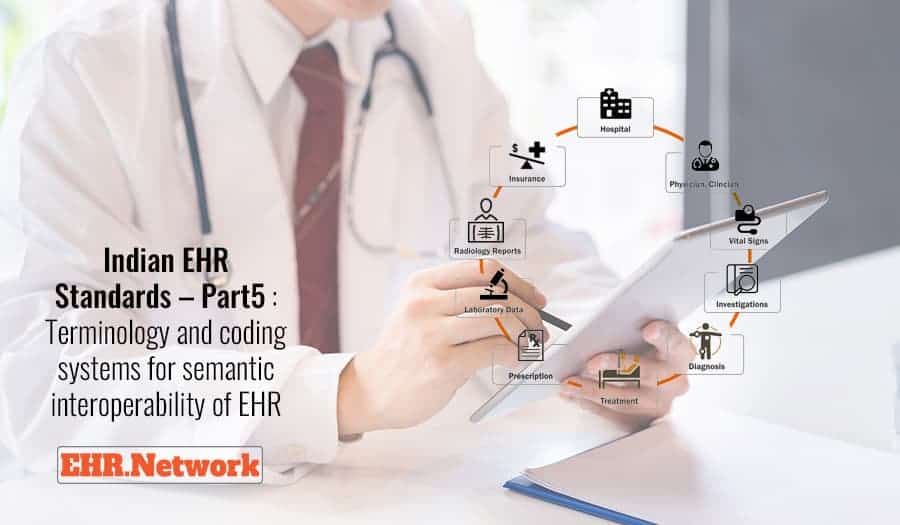 On part 4 of our Indian EHR standards series, we discussed how the implementation of standardized information model would help build interoperability of data into the design of your EHR system. Considering the diversity in health record systems, it would turn out to be tedious to attain semantic interoperability of EHR without a uniting terminology or coding system. In the absence of such coding systems, the captured data will remain ambiguous and open ended. Besides, it would also become difficult for computing systems to analyze the data and automate processes within care environments. The need to process and compute health data is one of the major reasons why terminology and coding standards are inevitable to attain meaningful clinical data.
In light of the above, any modern health record system should meet the following standards:
IHTSDO – SNOMED CT
The SNOMED CT or the Systematised Nomenclature of Medicine Clinical Terminology is the primary terminology library that India has adopted as part of it's EHR standards. All electronic health records systems are expected to implement the SNOMED CT as their internal coding system to make the clinical data computable and interoperable. This clinical terminology includes all classes of clinically relevant terminologies including nursing, dental, drugs and substance related information. We should use SNOMED CT not just for transmitting clinical information to other health record systems but also for internal data capture, information storage and analysis as well.
Regenstrief Institute: Logical Observation Identifiers Names and Codes or LOINC
LOINC codes include codes related to standardization of laboratory and imaging tests. They help in machine communication between diagnostic equipment and clinical information systems to record results of diagnostic tests.
As per the Indian EHR standards, at the point of data gathering SNOMED CT is recommended and LOINC for communication of diagnostic test results. This enables effective internal data analysis as well us seamless communication with external systems.
WHO Classification Codes
World Health Organization(WHO) family of International classification codes are used in statistical analysis and reporting of populations and public health analysis. These codes help us in analyzing overall health trends in large populations such as a country and ethnicity. These codes are hierarchical in nature are not suitable for live data analysis in relation to real world situations.
These includes classification codes as follows:
ICD 10 – International Classification of Diseases and other derivative classifications
ICD 9 PCS – List of procedure codes
ICF – International Classification of Functioning, Disability and Health
ICHI – International Classification of Health Interventions
ICD-O – International Classification of Diseases for Oncology
In practical use, we recommend that you gather the data using SNOMED CT for finer granularity and flexibility in analysis. When required later you may map the required SNOMED CT codes to ICD for statistical analysis and reporting purposes.
In summary, health records system should use SNOMED CT for terminology and WHO family of codes for classification reports. It is important to ensure that your digital health systems incorporates these coding systems for semantic interoperability of EHR. It also makes the data semantically rich and computable. Further, with the advent of NDHM, the government expects all clinical systems in the country to exchange coded clinical data as per FHIR standards.
Our person centric EHR platform – EHR.Network – is fully standards compliant. It supports terminology coded data and all coding systems as per EHR standards. In addition, we also provide an independent terminology service that any clinical application can use to code it's data.
The NDHM bridge on EHR.Network makes your applications NDHM enabled and ready to interoperate clinical data. You can view a demonstration of this on our Youtube channel.
To know more about EHR.Network, please contact us.
More about the EHR Platform