PHR application – standards compliant solution to improve personal health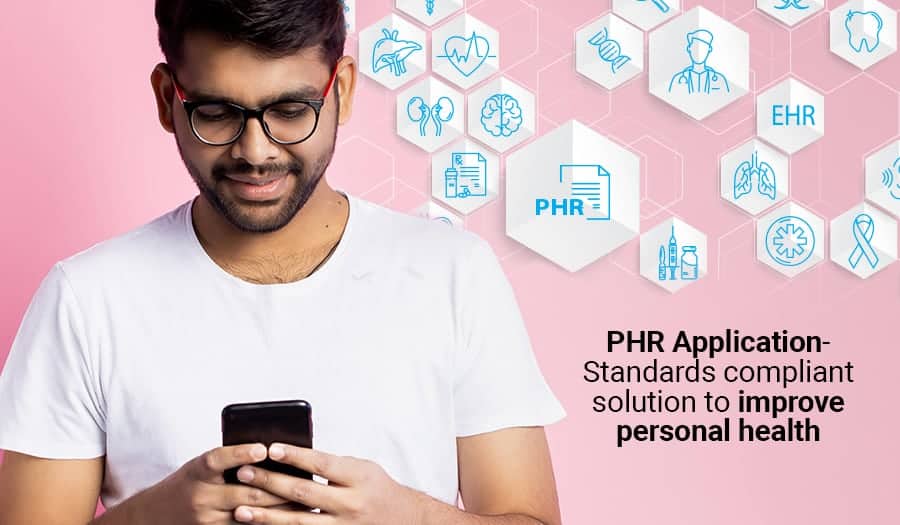 You can think of a PHR application as targeted lifelong longitudinal Personal Health Record solution layered with lifestyle, health & illness management services
The core of this solution is a standards compliant PHR application that seamlessly integrates to the Ayushman Bharat Digital Mission. PHRs should support an integrative care paradigm that includes modern and traditional health practices.
You can share this standards compliant PHR solution with your family, caregivers, doctors and hospitals when you need care. Since the data in your PHR is structured, coded & computable, advanced analytics & ML/AI tools can be integrated with it to provide insights and decision support for both persons and providers. Such a solution can reduce medical errors, improve outcomes and improve access & affordability in healthcare.
Apart from the obvious benefits to the PHR owner, caregiver and practitioner, the data in the PHR can have many secondary uses. Based on your consent, data in your PHR can be shared for secondary use and for the overall improvement of healthcare. With the improved access to real clinical data, barriers to drug discovery can be lowered, allowing more and more innovators to participate. Clinical researchers can use the data to identify patterns to create/improve treatment protocols for diseases associated with lifestyle and hereditary diseases such as Diabetes, Coronary, Cancer etc.
Why does one need a PHR application?
Self managed lifelong health history enables better care
Share health history with any service provider. This will allow easy access to such solutions and make them more effective
People need to remain independent longer into life, given the diminishing family support systems
Emerging new crop of information driven decision making tools
We can manage the emergence of new health threats such as COVID-19 only with available health information
Why should a person create & maintain their health history in their PHR application?
The roll out of ABDM has triggered a flurry of activity in the PHR applications domain. Many healthcare related entities now see an opportunity to engage directly with their customers and create mutually beneficial data pathways. Individuals can enable this and benefit from it by using an ABDM compliant PHR application to create and maintain their lifelong health history. Below we list some such potential use cases and their associated benefits.
ABDM Healthlocker & PHR
Ayushman Bharat Digital mission envisages a health locker and PHR application for every Indian citizen in the near future. It will be your personally controlled longitudinal lifelong health data history. You need a PHR application to manage such data as providers who generate data may not retain them beyond a certain period as mandated legally (this is expected to be in the region of 3-7years). Beyond this legally mandated period, you are expected to collect and manage your data in the Health locker/PHR solution that you subscribe to.
Apart from being a repository of lifelong health data, such PHRs are expected to become the primary via which a person can easily share their health records with others.
Personal health & wellness
PHR, layered with a selection of personalized lifestyle & wellness solutions and AI powered personal wellness applications, all designed to help maintain wellness and a productive lifestyle longer. The overall solution will help the person remain productive much longer and realize their full potential. This can be offered via direct subscription to persons as problem centric, age centric or outcome centric solutions
Children health
With nuclear families, young working parents often find it difficult to bring up a family. A newborn focussed PHR can help them manage data and get support to bring up young children. Tools such as growth charts, immunization schedules & nutrition management can be an immense help for such parents. Also a proper PHR started at child birth can be a lifetime asset that the parents can give to their children to help them maintain their health. This service can be offered directly to the young tech savvy parents or via hospitals, schools etc.
Patient onboarding for care providers
With many care situations requiring long term care, hospitals and doctors often find it very difficult to gather and maintain all the required clinical history of the patients. Their ability to make quick decisions and improve outcomes for the patient are often hampered by this lack of complete data about the patients. In conditions such as Oncology, availability of social data, lifestyle and family history can be extremely important. As the amount of data is large, manually keeping track of them is often tedious and can be overlooked in critical decisions.
A PHR that can gather all the available and assimilate the newly created data can be an enabler for both doctors and patients and a life saver for patients. Hospitals and doctors can use such a service either directly or via patients to improve overall care outcomes.
Clinical data registries
Clinical data registries work to assimilate clinical data for use in secondary use cases such as drug discovery, clinical protocol development, clinical decision support rules design etc. The need for such systems is real longitudinal data of large numbers of people gathered over long periods of time. A robust standards compliant PHR is a great way to build such registries. Being PHR based, such registries also allow management of consent for the use of this data.
Medication usage feedback & adverse event tracking
Identify, recruit and collect feedback on medication related outcomes & problems directly from actual users. Pharma companies can identify persons using a specific medication and get more real life feedback for improving their products. Participation can be based on consent gathered specifically for every such use case.
Reporting adverse events from drugs is another area where a PHR can be deployed very effectively. The end users of drugs can report any reactions and adverse events that they observe and these feedbacks can be used to improve the drugs.
Enable secondary use of clinical data
The proposed PHR service can play a vital role in enabling secondary use of clinical data. The data in a person's PHR can be made available, based on consent, for uses such as drug discovery, protocol development, development of decision support rules, drug interaction tracking etc.
Reference roadmap for rolling out a PHR application in the Indian market
Though the Indian market offers enormous opportunities for PHR applications, it also presents many challenges such as cost sensitivity and lack of confidence with personal data related privacy issues. However, to a large proportion of the population, the potential benefits far outweigh their concerns and will be looking to adopt a PHR as soon as trusted services become available widely.
Below we present a potential roadmap as guidance for those who are considering launching such a solution
Offer a low cost PHR application to customers and sign them up.
Provide facility to the user to add existing records
Third party services for digitization of existing paper records – Free for limited data and paid after that. Partner with third parties to provide this service
Partner with hospitals/telemedicine networks to bring care services to the PHR holders. Leverage NDHM to share records to the person's PHR after treatment
Partner with AI enabled lifestyle and wellness solution providers to extend services to PHR holders.
Offer pre-hospitalization and post- hospitalization care through third party partners. Improve medication adherence and treatment outcomes
Improve overall wellness of the PHR holder
Though building & offering a PHR solution looks very attractive, the regulatory framework and complexity of health data can make it a challenging endeavor for most innovators. If not done with a proper understanding of the problem, the costs and complexity of the project can escalate very fast, creating challenges to your young business.
In case you are considering building a business in digital health in general and PHR in particular, we can help you launch fast and take a lead position in the evolving market. Our data-first digital health platform – EHR.Network – provides healthcare APIs that can be used to build your PHR application very fast and at a fraction of the cost. Apart from providing a large number of APIs, EHR.Network also helps you remain aligned to the evolving regulatory landscape, so that your resources are freed up to focus on your core business requirements.
Our platform has been tested through multiple live deployments and proven to be mature and scalable to support your fast growth. Please contact us to know more.
More about the EHR Platform