Cloud based clinic application – How to choose a "Smart Architecture" to build solutions for the future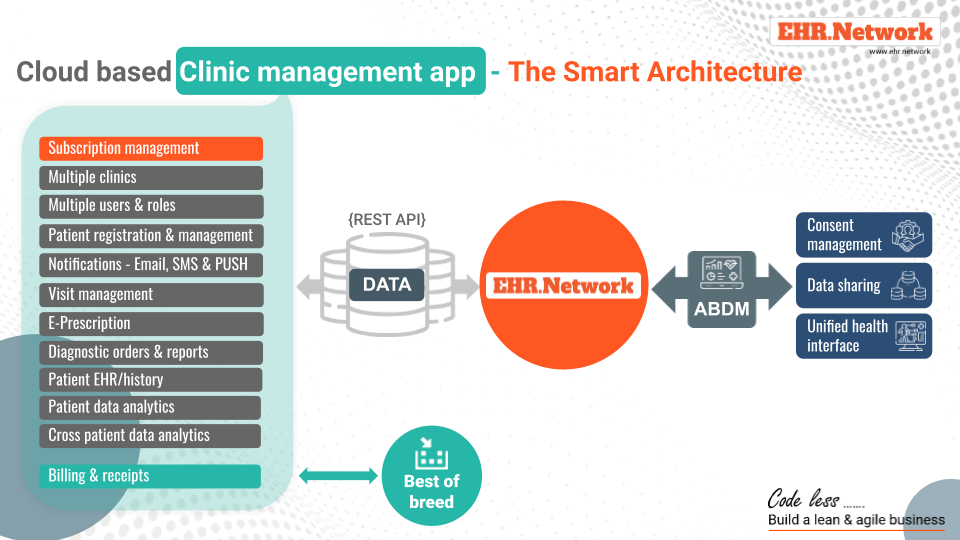 Building a modern cloud based clinic application is complex and choosing a smart architecture will be the key to delivering end user applications fast and at low cost – costs that give you a competitive edge in the market.
If you are excited by the pace at which digitalhealth is maturing in India and see great opportunity in digitally enabling clinics and doctors, you are in the right place. We can help you choose the right architecture to build your applications so that they are regulatory compliant, supports the emerging requirements and remain futureproof.
Cloud based clinic applications of the future
Clinic applications are not just billing and appointment management anymore. Your applications have to offer a lot more functionality that includes gathering, securing and sharing standards compliant clinical data of patients.
Apart from the management of information and operations within a clinic, your applications have to connect with the emerging national digital health ecosystem and help the clinics and doctors work in collaboration with other healthcare providers.
Digital health softwares have to exchange clinical data of their patients with other providers via the Ayushman Bharat Digital Mission (ABDM) network. Availability of past records will enable doctors to give better care and improve outcomes for their patients. Using ABDM's Universal Health Interface (UHI), clinics and doctors can offer their services to patients anywhere in India remotely through telmedicine.
Traditional clinic applications will find it difficult to full fill the above requirements, thus opening up very large opportunities for new age cloud based clinic applications.
Challenges for digitalhealth innovators
If you are an innovator looking to address this emerging market, you will face many challenges that need fresh out-of-the-box solutions that challenge the traditional methods.
Healthcare data is complex and conventional design approaches can make your applications extremely expensive to build and difficult to maintain
Clinical data is evolving rendering applications built using traditional architectures obsolete very fast
Considering the design intend of ABDM to enable longitudinal PHR of patients, such data has extremely long life, possibly 100 years. However applications evolve very fast and are getting replaced at ever increasing speed (< 5 years at present). Newer applications will need to manage this dichotomy seamlessly.
With patients owning data, emerging solutions have to play the role of a custodians to manage data on behalf of the patient and exchange it with anyone that the patient consents to.
With data emerging as the new capital asset that can be leveraged multiple times to derive value, new age digitalhealth applications have to pursue a data first approach to secure and safeguard data.
To derive maximum value out of clinical data, the predominantly textual and descriptive data has to be coded and made computable. This is best done at the point of data capture and the new age digitalhealth applications play a defining role in this.
A Smart Architecture for addressing the above challenges
As an innovator with limited resources, addressing the above challenges can be daunting from both resources and expertise angle. Building a large team that covers the full technology spectrum and also a market facing team to engage with the market can drain you out of your available resources. We can see this from the high rate of failures among digital health startups.
A smart architecture that builds on the reusable data layer and services on EHR.Network can make this journey less painful for you. We can make your journey smoother and help improve your chances of success. With a large portion of work already done by us and made available to your as APIs, your can focus on your solution and quickly get to the market.
You move away from large capex to build the full stack solution to an opex model. Your expenses towards the use of the platform are linked to your revenue, thus helping you conserve resources for the long haul ahead of you.
We take care of your compliance, regulatory and interoperability requirements at the platform and frees you up to focus on building a world class solution for clinics and doctors.
Talk to us. Do not waste our valuable resources on things that our experts in clinical data management have already done. Let a Smart architecture with EHR.Network core be your key to success.