ABDM compliant PHR solution – who can benefit by offering a PHR solution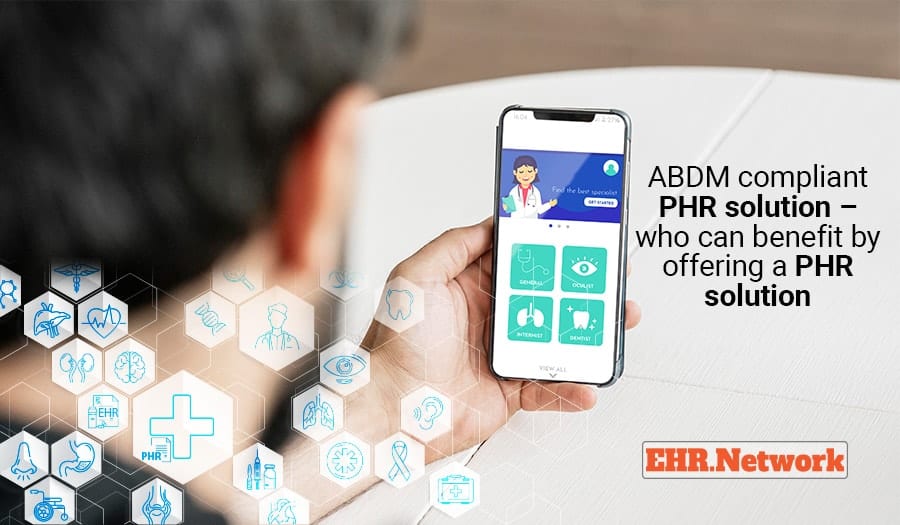 An ABDM compliant PHR solution will be the next big thing in digital health in India. Since India has embarked on a journey of Patient-centric digitization all Indian citizens will be empowered with a PHR solution soon. Currently many public health and corporate providers are offering companion mobile applications or patient portals for patients to view health data generated for them. The proposed PHR solutions can build on such offerings to enable the creation of a universal lifelong health history of a person.
With ABDM rollout, the Indian government is pushing to standardize and ensure fluidity of healthcare data. The design and framework for the proposed ABDM platform borrows from the highly successful UPI. With the rollout of UPI, India enhanced financial inclusion and access for millions of Indian citizens who were excluded from the traditional banking systems.
Similar to UPI we see the emergence of a market for B2C Personal Health Records (PHR) as a service. Such a service will bring transparency in healthcare and empower everyone to make better health decisions. An ABDM compliant PHR service will also greatly enhance the coverage, access and affordability of healthcare.
PHR solution requires a long-term plan for value extraction and sustainability. What are the stakeholders benefits and who are the potential providers for such a service?
The impending emergence of a person controlled PHR to revolutionize healthcare delivery
Personal Health Records are solutions that manage longitudinal health data of an individual. To encourage adoption, ABDM currently allows the PHR to consist of non-computable health data documents. In the long run PHRs will phase out legacy unstructured data and focus on consolidation of structured data through ABDM federated data exchange network.
In this blog we examine the profile of those entities who are best positioned to roll out an ABDM compliant PHR service.
With Patient-centric focus, we can classify the need for a PHR into two broad categories. The patient, by consolidating their lifetime health records, can use this as a tool to avail better health services from Practitioners in the future. With the ability to access and manage their clinical data, a person can participate in secondary healthcare activities such as clinical trials, clinical research, incident reporting etc. A PHR also allows a person to monetize their health data by offering access for secondary uses.
Keeping the broad uses in perspective, who would be potential providers of this B2C service? We have to keep in mind that ownership of the data rests with the patient and need of a model that makes this service sustainable.
| | | |
| --- | --- | --- |
| | Enhance care | Secondary participation * |
| Healthcare service providers | 👍 | 👍 |
| Ecosystem aggregators | 👍 | 👍 |
| Insurance providers | 👍 | |
| Pharma company | 👍 | 👍 |
*Participate in other healthcare activities such as clinical research and drug discovery that make use of clinical data. Monetization of personal health data may be included.
Branded ABDM compliant PHR service from Healthcare service providers to replace patient portals
Healthcare providers engage on a daily basis with patients. Effectiveness of their service and outcomes would improve if they have access to their patients longitudinal health records. Patients are not likely to pay for this service and patients are likely to be availing service from different providers, so there is a stickiness challenge.
By providing an ABDM compliant PHR service, they can remain engaged with their patients to improve transparency and build trust. Further it would enable extension of their services beyond the current facility to include post operative care and elder care.
Apart from delivering care, many service providers also play a key role in secondary services in healthcare aimed at improving it. By providing their patients with a PHR service, the service providers can identify suitable cohorts and enable the identified patients to better participate in such activities.
Once PHR services become widely available, the use of patient portals and apps from providers will fall, reducing the ability of providers to remain engaged with their patients. They can replace their current offerings with an ABDM compliant PHR, integrated with their service offerings to improve customer stickiness.
Healthcare ecosystem aggregators to use ABDM compliant PHR to improve stickiness and own their customers
Ecosystem aggregators in Healthcare have a customer base and provide a portfolio of services that cover high usage scenarios such as OP, IP, teleconsult, epharmacy. pharmacy, poly clinics, diagnostics and insurance. The services are further getting extended to home care, medical devices, neutraceuticals and generic drugs. These providers are well established in one or more services and through M&A bring best of breed services to create the bouquet.
An ABDM compliant PHR solution will be table stakes needed to protect their market position. Longitudinal health records of the patient would open opportunities for new engagement models with Practitioners, other Service Providers, Pharma, Insurance, Research Centers and Patients themselves. With Universal Health Interface (UHI) compliance, the solution has potential of taking the pole position in e-interface with patients. The possibilities are wide and deep.
These ecosystem aggregators are currently backed by well established business brands and hence have trust and recall from their existing market segments.
The business advantages make investment and sustenance of this service viable with no upfront cost to the patient. It is of further interest to note that the customer base of aggregators constitute a segment that avails health services frequently due to their comorbidity or special needs. Hence longitudinal health data of such customers would be rich with usage details of drugs and disease management and progression.
Insurance providers to leverage PHR to directly connect and improve engagement with policy holders
In the current healthcare ecosystem, health insurance providers have their incentives aligned to improve the wellness of their customers. By helping their customers remain healthy, they can reduce claims and improve their business. However currently they have limited interactions with their customers beyond settling claims and are unable to work towards this goal. An ABDM compliant PHR service will open up newer opportunities for them to engage and work towards the wellness of their customers.
Using a PHR service, they can create a wellness guardian service with the cost of the service justified for the potential benefits it provides. Recent IRDAI Guidelines on Wellness and Preventive Benefits notified on Sep 4 2020, strengthens the case.
New age insurance providers are building a data driven business on very thin margins. They will find the PHR to be the ideal route to lay a solid data foundation for their business.
Pharma companies to use PHR as a clinical data driven pipeline to build direct interface to end customers-
Pharma companies currently do not provide service to patients directly. However their need for health-data is well established. Apart from their need for live clinical data to drive innovations, they also can benefit greatly by working directly with their end customers for clinical trials, research and product feedback.
If pharma companies offer a PHR service with options for the end customers to monetize their data, it can be a win-win case. The patient can use longitudinal data to avail efficient healthcare service from any Practitioner and benefit from secondary participation.
EHR.Network is a data first platform for the healthcare ecosystem. It can be used to develop, deploy and run healthcare solutions that involve clinical data. It provides a proven set of healthcare APIs for building a robust ABDM compliant PHR service. If you are from any of the above market segments and are considering launching a PHR service, we can be a solid partner in your journey.
More about the EHR Platform