DataFirst digital health infrastructure
EHR as a platform for healthcare application development
Our EHR platform supports shared information models, is vendor and technology neutral, has open APIs and is open standards based. It provides an ideal platform to base your clinical applications on without worrying about interoperability, migration and data portability.
Finally you have an opportunity to be in control!!
Healthcare industry is generating unprecedented volumes of data every year – growing at nearly 900%. 50 terabytes was the average data generated in 2020 by every person on the earth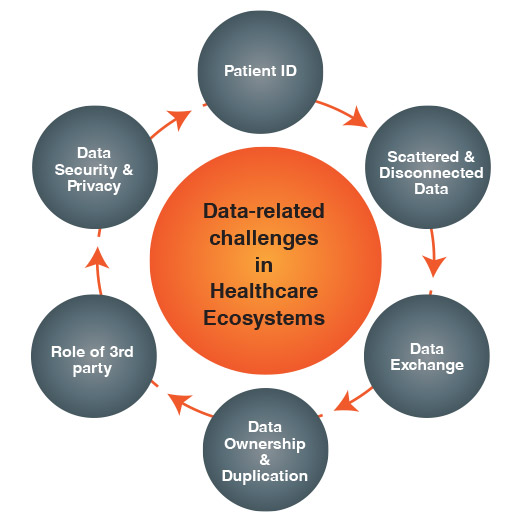 Health data sits in siloes, and because of this, the true and extended value that can be mined from it is very challenging to extract.
Regulatory compliance and "ownership" issues make it difficult for data to be fluid.
Securely sharing such data is commercially and technically complex.
This is limiting the ability to generate quality insights for healthcare companies
These issues are making it challenging for healthcare companies to have a consolidated view of a population or individual Consumer-Patients' health status to design a personalized or predictive-preventive service.
EHR.Network unlocks data value by making it accessible and inter-operable for healthcare companies to generate insights, securely within and across organizations. Value creation is linked to data access and use. Value is generated by the insights resulting from asking better questions of data, whether it belongs to companies themselves or to others with whom they can partner.
unlock health data that hinder innovation and interoperability – connecting and combining disparate data streams
empower digital transformation by meeting all compliance regulations
help improve care outcomes by leveraging cloud technology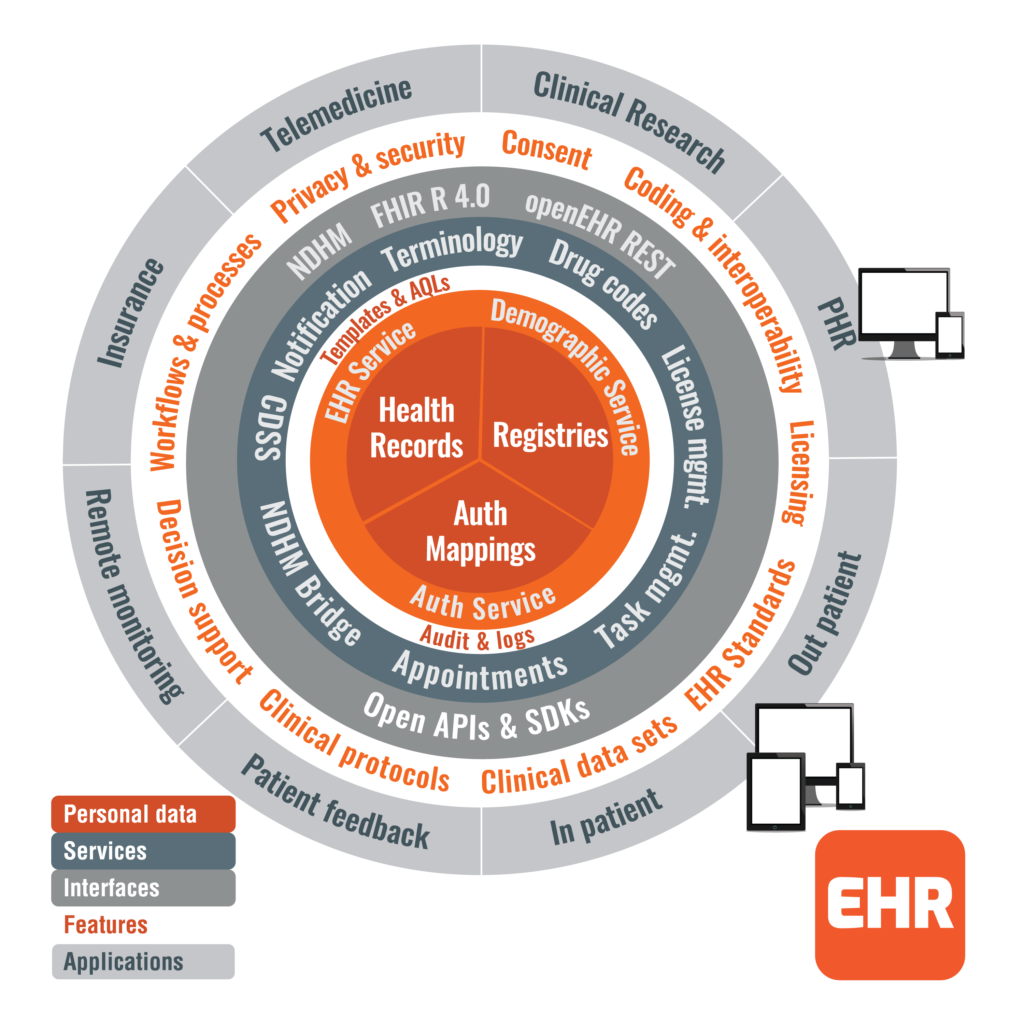 We help unlock the data value by making it accessible to generate insights for a personalized or predictive-preventive service.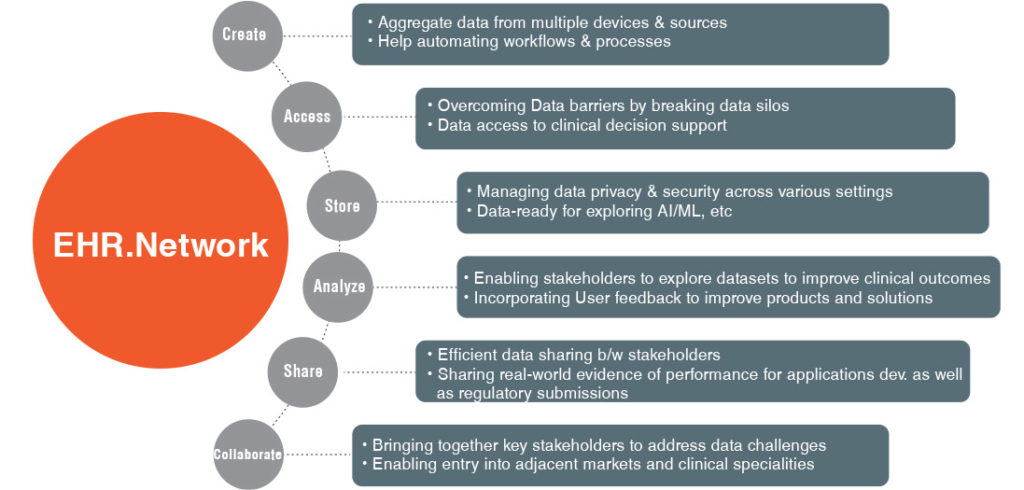 Standards compliant API-based data platform
Independently managed data & application layers
Deploy Compliance, Standards, Security, Privacy & Consent as services
Build dynamic application ecosystem
EHR.Network offers EHR as a platform. This person centric EHR platform is secure, privacy aware, open and standards compliant. All clinical data on the platform is vendor neutral, interoperable and accessible across the life of a person.
This platform can be used as a common clinical data repository to build and manage evolving healthcare IT systems. Our DataFirst digital health architecture allows the segregation of information from actual applications so that each can evolve on its own without impacting the other.
We have designed EHR.Network to comply with the Indian and International EHR standards. It is engineered to deliver the Requirements for an Electronic Health Record Architecture, as per ISO/BIS 18308.
Why don't you give your data the respect that it deserves?
The concept
Plug'n'play services – flexible clinical models, semantic interoperability, vendor neutral datastore, security, privacy, standards

Ready to use Healthcare APIs – Open APIs, REST/JSON

Simplified app development– Manage complexities so that life for app developers is made easy

Shared data, unique experiences – Collection of user centric healthcare applications that work on centrally managed data

Best of breed apps– Choose/build best fit applications to create a complete healthcare system

Centered around the patient – Make it possible for the patient to own their longitudinal lifelong health data

Everybody wins – Lower cost, improve availability & enhance quality of care
Design principles of the EHR Platform
In healthcare, data and applications take completely different pathways to evolve and mature. While applications have a life of less than 5 years, person centric clinical data has a life of 100+ years. While there is a need disruptive innovations to improve adoption and user experience in applications, data is highly regulated and change at a very slow pace. Applications are often customized to meet local requirements while the data has to be fluid and universal. Our DataFirst digital health design addresses this problem.
Privacy by design has been one of our core design principles for EHR.Network. With this in mind, we have distributed and segregated the data store to reduce privacy risks. We refer back to the OECD Privacy Guidelines on all critical decisions relating to data privacy on the platform.
Considering the sensitive nature of a person's health data, EHR.Network's security guidelines are based on the OWASP Top 10 Most Critical Web Application Security Risks. Independent security consultants have tested and certified this while deploying the platform for the Karnataka Mental Health Management System(KMHMS).
While designing the Clinical Data Repository(CDR) of the platform, we were cognizant of the fact that clinical data is evolving and flexibility of data scheme is paramount when attempting to support the lifelong EHR of a person. We were able to overcome this challenge by adopting the openEHR specifications to implement our CDR. openEHR multi-level modelling paradigm and peer reviewed and open access repository of clinical models makes our CDR unique.
We believe that APIs define a platform to the external world. In line with the OpenPlatform concept we have designed everything on the platform to be portable and inter-operable, whether it is the EHR data or the EHR systems that are built on the platform.
If you value your clinical data,
let us help you secure it for you.