Healthelife team selected for the Healthathon 2020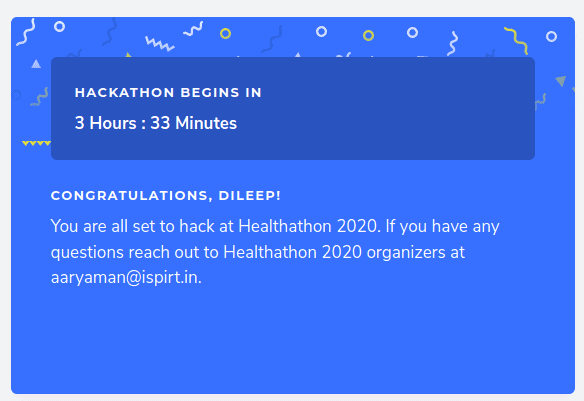 We are exited to be part of the Healthathon 2020. Our 6 member team has been selected to be part of this 4 week hackathon aimed spreading awareness about the PHR system.
The recently announced National Digital Health Mission(NDHM) is aiming to create a federated PHR for all Indian citizens. This event is designed to enable Developers, entrepreneurs, investors, doctors, and other stakeholders from the public sector, private sector, and medical community to join this revolution in Indian healthtech.
The organizers have proposed a number of themes for the participants to work on during the event. These are grouped into end user apps, consent management and middle ware & utilities. The idea is to enable the healthtech community to think about the possibilities and business opportunities that are emerging around the availability of person controlled electronic health records or PHRs.
Our theme for the Healthathon 2020
For us this event has come at the right time. We have been approved to the NDHM sandbox immediately after it was announced and have started work on integrating the sandbox APIs to our EHR.Network platform.
For the Healthathon 2020, we are planning to do the following
Build an information sharing flow that involves an HIP & an HIU to demonstrate a Doctor-facing app that help unify and analyze patient's health records across different data sources. In this the EHR.network platform will host both the HIP & HIU and use the NDHM to implement a consent based sharing of health records. We will adapt our AyushEHR clinic application to display and visualize the unified health records of the person.
We will follow this up with the demonstration of Health lockers for secure and convenient long term storage of PHR. This solution will enable a person to integrate data from multiple HIPs into their PHR repository fully controlled and managed by them. We will again use EHR.Network as the person centric clinical data repository and build a basic PHR application using our Angular9 UI framework for clinical applications.
Key role our EHR as a platform is expected to play in our participation in Healthathon 2020
Our EHR.Network has almost all the building blocks that are required to quickly build applications to manage health records, be it provider facing or person facing. This gives us all the tools to make an impact in this event. We will be focusing our efforts on building an asynchronous service as an add-on to our platform to integrate with the NDHM and the UI applications to demonstrate our solutions.
In addition to our full fledged participation, we also want to encourage other participants by opening up our sandbox to those who are looking for a secure standards compliant health records repository to build their solution. You can contact us if you are interested.
Learn more
Call us on +91 63609 97311