PHR for 50+ – Create your next generation wellness solution on EHR.Network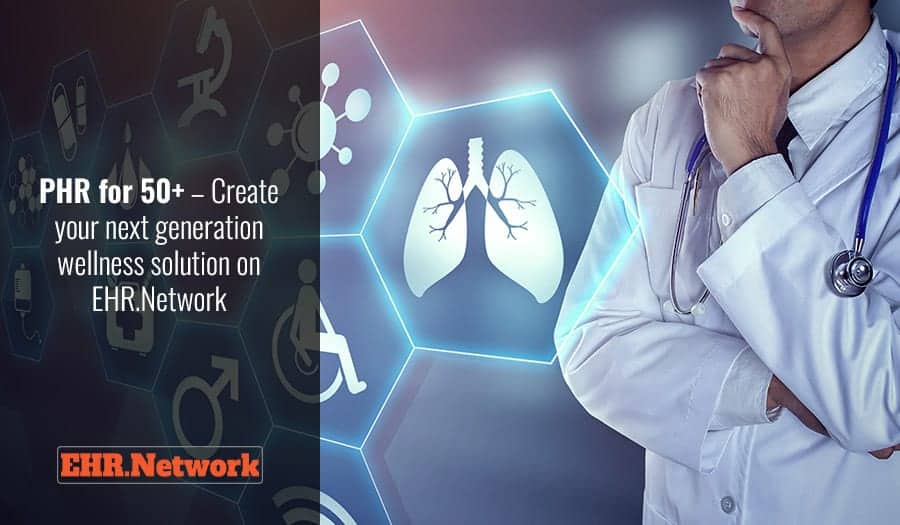 A targeted PHR solution layered with lifestyle & health management services for the 50+.
A standards compliant PHR solution that is designed for seamless integration to the proposed National Digital Health Blueprint is the core of the solution. This PHR supports an integrative care paradigm that includes modern and traditional health practices, all working on top of the shared PHR.
The PHR solution is layered with a selection of personalized lifestyle & wellness solutions and AI powered personal wellness applications, all designed to help maintain wellness and a productive lifestyle longer. The overall solution will help the person remain productive much longer and realize their full potential.
The PHR solution, being compliant with Indian EHR standards, is shareable with family, caregivers, doctors & hospitals when care is required.
Why PHR for the 50+
Reaching the top of their careers and best placed to make health decisions for self/spouse
Adequate disposable income & spending capacity
Acute need for functional lifestyle fitness to maximize personal potential
High incidence/potential for lifestyle diseases
Need to remain independent longer into life, given the diminishing family support systems
Awareness of information driven decision making tools
Making health data available is the only way emergence of new health threats such as COVID-19 that can be managed
Value proposition to the generation looking to age smartly
Remain healthy longer
Curated use of monthly spend on wellness services for self/spouse
Capitalize on the economies of technology & digital health
Adopt the new ways of healthy living & let go the disease modes of life
Global peer to peer networking & group based therapies
Smart aging & Super aging
Personal health & wellness literacy from own & others' experiences
Break disease formation & maturation using lifestyle interventions
Optimizing health, wellness & medical treatments
Deeply personalized, confidential and private
Integrate with institutional EHR solutions of senior citizen communities for continuity of care in the future
How EHR.Network makes it simple to build your PHR solution for the smart 50+
EHR.Network has all the components that you need to create your 50+ PHR solution. We take care of the standards compliant clinical data repository and all the associated privacy, security & scalability concerns. This EHR repository is person centric and all the clinical information is managed around the person. So a PHR application works seamless on this platform.
Using our EHR as a platform service, your PHR solution can be a reality in a matter of days. So go ahead and start talking to the empowered 50+ about your great solution for them, so while we continue to work towards making things simple for application developers like you.
Learn more
Call us on +91 63609 97311