Top 10 ways medical devices startups can use EHR.Network to simplify things.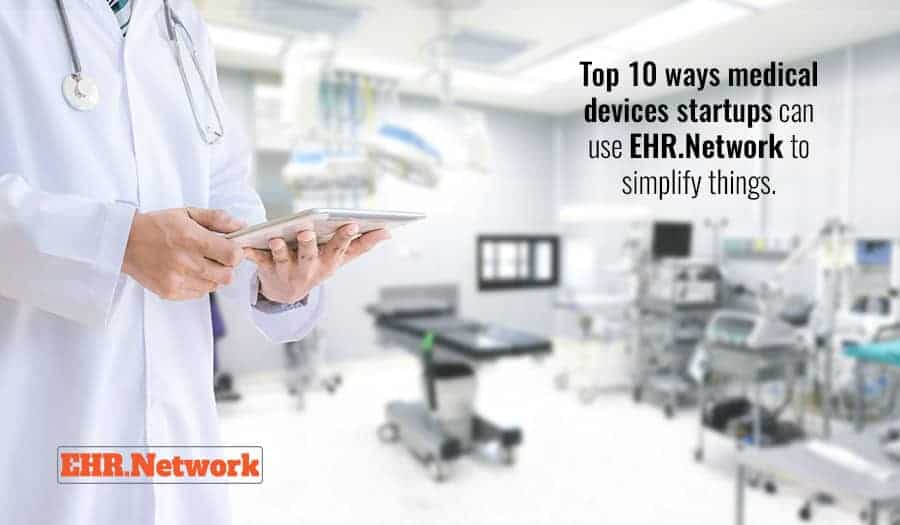 This is a good time for medical devices startups in India. Digital health is on the cusp of a major adoption wave, what with COVID-19 providing the much required impetus. Telemedicine is evolving as the future of everyday doctor patient engagement, driven by the release of the Telemedicine Practice Guidelines(TPG) and the need for doctors to be protected against infections.
All this points to a future of data driven connected health where healthcare devices will play an increasing role. Healthcare devices of the future will be an integral part of the emerging connected health. Collection, aggregation, processing and exchange of data in a standards compliant way will form an important aspect of such businesses. Ability to provide standard web APIs for target systems can become the killer app that will complement your device business.
Regulations play an important role in your choice of systems for record keeping & seamless information sharing from your devices, . Things like standards compliance, privacy & security become very important factors in the choice. As a startup specialising in creating cutting edge devices you will want to focus on your core competencies. Understanding the regulations and building a complex EHR system for your minimal requirements may not be the best deployment of your resources or time.
In this context, EHR.Network can help you in many ways, while doing what we are good at – managing the entire EHR data life cycle. Here are some of the top ones.
1.Identify the patients
For accuracy of clinical data and patient safety, you need to identify the patient who is using your device. The integrated patient registry in EHR.Network is designed as per the EHR standards and FHIR Patient resource. You can use this service to manage patient details easily just using our APIs.
Your startup may offer value added services such as monitoring, reports or consented data sharing. You can give patients their own login to deliver such services .
2.Identify the practitioners
When your devices are used under the supervision of a practitioner, you will need to identify them uniquely. The practitioner registry on EHR.Network enables this.
You can provide value added services to such practitioners by enabling them a login to consume such services. Again you require nothing other than the platform APIs for this entire functionality.
3.Clinical information management for your medical devices startups
EHR.network supports an extensive collection of clinical data sets right from simple vitals to more sophisticated observations & examinations. You may extend this further based on the specific requirements of your devices. The openEHR CDR of the platform can easily meet all the requirements for storage of clinical data generated by your devices.
The clinical data on the platform comply with the Indian EHR standards and can easily be exchanged with other applications. Furthermore, the extensive query capabilities enable you to build value added analytics on the data
4.Data exchange layer for your devices data
You will need exchange the data generated by your devices with multiple systems and at varying schedules. It may not be always possible to push the data directly into the target systems in real time. If your devices are pushing data, different systems may offer different sets of APIs, making the integration a complex process.
EHR.Network gives you a store and forward mechanism to exchange your data. Your devices need only to integrate with EHR.Network, which can store the incoming data in a proper EHR format. At the other end, the platform exposes a standard set of APIs for all other systems.
5.Queries and reports
Medical devices startups have to generate a variety of reports and visualisations to add value to the data gathering capabilities of their devices. This is usually managed using an external data management platform as the devices are often designed minimally to save power,
By using EHR.Network as your data store, you get access to the powerful AQL based querying and reporting capabilities of its openEHR CDR. The clinical data that you store can be queried flexibly to generate a variety of reports for your users.
6.Authentication & authorisation of users of your service
The platform provides authentication & authorization as a service for your devices and applications. We take care of user logins, password management and authorization on your behalf.
We use the sophisticated auth framework in EHR.Network to securely manage the clinical data generated by your devices in a privacy aware manner.
7.Ensuring privacy of personal data
The proposed Personal Data Protection(PDP) act lays a lot of stress on the privacy of personal data. Your medical devices startups should take this aspect very seriously, while managing the data from your devices.
We have built data privacy into the core of our design as EHR.Network is built along the Privacy By Design principle. The services on the platform are federated and use separate databases. The demographics and EHR are segregated into multiple services and databases to minimize the impact of any data breach. On top of these services, we have created complex call flows that use multiple backend services to construct the data sets required by application screens at runtime. These are exposed as simple APIs to abstract this complexity away from you and enable you to focus on your users.
8.Security for your devices data
Any cloud based information solution should take security very seriously. With this in mind, we have implemented a large number of security features to manage the risks that arise on the Internet. It has been tested & certified against the OWASP Top 10 Web Application Security Risks. This certification was a requirement for the e-Manas (Karnataka Mental Health Management System) deployment. We run the same code on our public platform so that your applications get the same level of security.
All out APIs are exposed through a gateway that implements security features such as API keys, rate limiting & bot detection. We have implemented 256 bit TLS at our APIs end points. This is further enhanced with password hashing at the UI, password policy and login failure limits. You can go head and build your application fast and still be guaranteed of them being secure.
9.Performance & scalability
Scalability of our cloud platform has come from the tough design choices that we have made. We believe in the cloud native paradigm and services architecture. Our platform is designed as a set of simple services that work together to deliver complex functionalities. The services operate stateless to support clustering.
This architecture allows us to scale our application as required across multiple nodes and maintain consistent performance. Your business can scale as your user base grows without worrying about the back end performance.
10.Optimising resource deployments in your medical devices startup
As a startup, you are always constrained for resources. So it is important to deploy the available resources prudently and sustain yourself till you become successful.
EHR.Network helps you conserve your resources and deploy them in your areas of core expertise. We take care of all the headaches associated with running an information platform, thus freeing you up to focus on what you are good at. As we work with a usage based subscription model, your expenses associated with using EHR.Network will also be in direct proportion to your usage and hence revenues.
As you can see above, EHR.Network is your top choice for building an information management companion for your healthcare device. Our estimates have shown that EHR.Network enables healthcare applications to be developed in less than half the time and at 50% cost as compared to building everything from scratch.
Learn more
Call us on +91 63609 97311