NRCeS user meet 2nd edition sees Healthelife delivering the keynote address.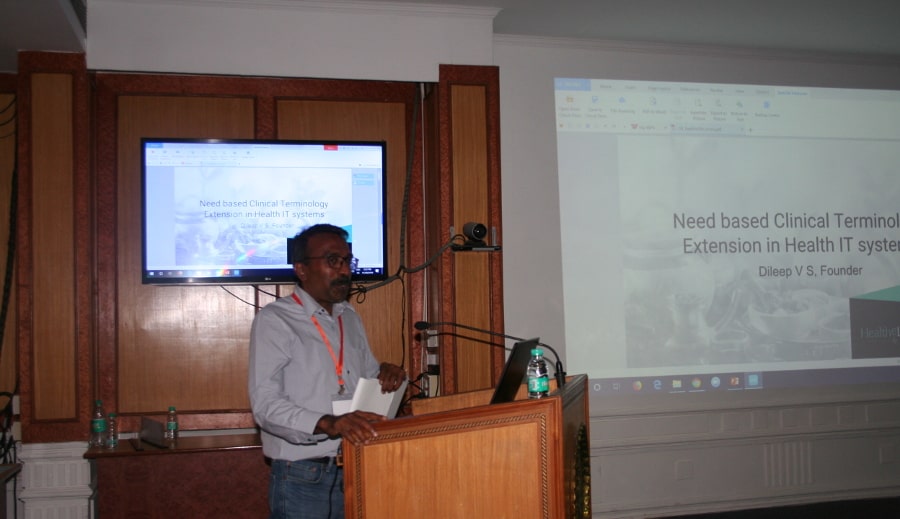 NRCeS user meet held it's second edition at All India Institute of Medical Sciences(AIIMS), New Delhi on 28th November 2018, Wednesday. Shri. Lav Agarwal, Joint Secretary, MoH&FW, healthcare and technology professionals from AIIIMS, representatives of many government & public sector organizations involved in eHealth standards implementation, large healthcare organizations and healthcare IT startups attended this full day event. Many informative presentations, discussions and deliberations on different aspects of EHR standards adoption across the country happened during this event.
The focus of this year's event was the adoption and incorporation of SNOMED CT in clinical IT systems.
Major highlights of this NRCeS user meet
The major highlights of this event included..
Key note address on the Role of Training & Implementation Support in Standard Adoption by Dr Karanvir Singh, Chief Medical Information Officer, Apollo Hospital New Delhi
Presentation on the Experience of Adoption and Use of Clinical Terminology at AIIMS, New Delhi by Dr. Sushil Kumar Meher & Dr. Vivek Gupta
Key note address on Standard enabled Analytics by Dr. Suman Bhusan Bhattacharyya, Founder & CEO at Bhattacharyyas Clinical Records Research & Informatics LLP
Key note address on the Need based Clinical Terminology Extension in Health IT system by Mr. Dileep V S, Founder HealtheLife Venture LLP
Team members from NRCeS explained about the work their team is doing to support government departments, private organizations and healthcare IT companies to adopt EHR standards.
Healthelife finding recognition in digital-health community
This event was of special importance to HealtheLife as we were invited to deliver a keynote address in recognition of the breathtaking work that we are doing in EHR.Network, our standards based open EHR platform and our pioneering effort in the adoption of EHR standards to Ayurveda, Yoga and Naturopathy through AyushEHR. The keynote address on 'Need based Clinical Terminology Extension in Health IT system ' delivered by our co-founder Dileep V S was well received and generated a lot of discussions from the other participants. Many participants expressed interest in knowing more about our work in the future.
We thank Mr. Gaur Sunder, Joint Director & Chief Investigator, Ms. Manisha Mantri, Project Lead, Mr. Achyut Patil, Education and Training, Ms. Neetu Verma, NRCeS Promotion & Dissemination and other NRCeS Team members for the well organized and informative event and are looking forward to the next edition of the event.
Learn more
Call us on +91 63609 97311