Indian EHR Standards – Part1 : Its need & purpose and what it means to you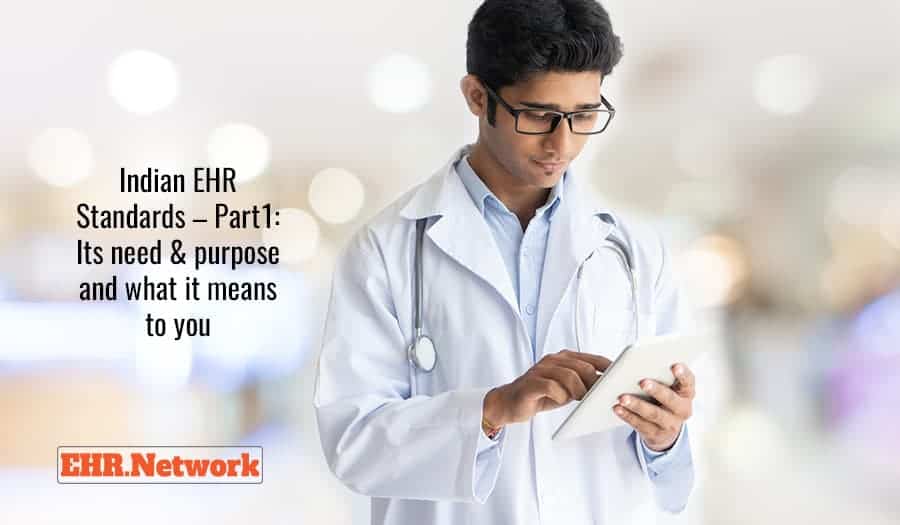 Indian EHR standards attempts to improve the access, availability and efficacy of healthcare. There is a need to improve awareness about this to enhance it's widespread adoption. So, we have come up with an initiative to dedicate a series of articles to make the understanding of EHR standards and their application easy for everybody.
Electronic medical records(EMR) is one of the revolutionary innovations in the medical sector. It enabled clinicians, doctors and wellness practitioners to adopt uniform and optimized tools to diagnose illnesses and ailments. They are able to come up with personalized treatments and be aware of patient related information such as their allergies and side effects.
As the use of EMRs grew, the stakeholders felt the need to standardise the way health information is managed electronically. This prompted the Ministry of Health and Family Welfare(MOHFW) to adopt the Indian electronic health records standards in 2013. They have enhanced this first version and released the version 2 in December 2016. A panel of experts evaluated the best and tested methodologies around the world for the purpose of formulating these standards. The committee constituted of medical practitioners, technologists, government officials, and expert practitioners. These EHR standards will to evolve over time, accommodating newer revisions and modifications as required.
We need to ensure a wider understanding of the EHR standards to quicken it's pace of adoption. Only then will we start seeing the benefit only if we can achieve wide adoption across India.
The need for Meaningful Electronic Health Records
A personal medical record is really meaningful only when it is managed continuously from the time of an individual's birth. Since EHRs contain a person's crucial medical data, it is important to record all the instances of clinical encounter. Clinical encounters signify changes in an individual's health and could be significant in managing any ailment that may develop later.
For proper diagnosis & treatment EHR data should be arranged based on time and relevance to provide a brief summary of a person's health. With personal health devices, it has now become easier for individuals to record health data regularly for their long term advantage.
The Purpose of Meaningful Medical Records
Some of the major reasons why we should always record clinical data is to …
Pave way for evidence-based healthcare
Implement predictive analytics for personalised healthcare
Foster quick and optimum diagnosis of ailments
Minimise or eliminate the duplication of diagnosis and imaging examinations
Minimise or eliminate the harm caused by clinical errors and oversights
Improve transparency and trust in Patient/Care giver relations
Improve the access to and affordability of healthcare
The Need for EHR standards
Over the life of any person, instances of care & visits span across multiple providers and care practices (Allopathy, Ayurveda, Homeopathy etc). To achieve the intended purpose of electronic health records we need to bring clinical data from multiple sources together in a meaningful way.
We can achieve this only through a common set of standards for collection and sharing of clinical information. The Ministry of Health and Family Welfare(MOHFW) has set the ball rolling in this direction by releasing the standards for the capture, storage, retrieval, exchange and analysis of clinical information.
This Indian EHR standards series will analyze the significance and importance of these standards. It will attempt to explore how it will help in better healthcare delivery and development of evidence based treatment protocols.
We will be evolving our EHR platform with the standards as part of our commitment to our customers. This way we can assure you of being compliant to the latest standards by using EHR.Network to build your healthcare applications. Please read here to know more about the standards that our platform supports.
Learn more
Call us on +91 63609 97311