HealtheLife to feature in the IIITB-Samvaad talk on Design of e-Manas on July 20, 2020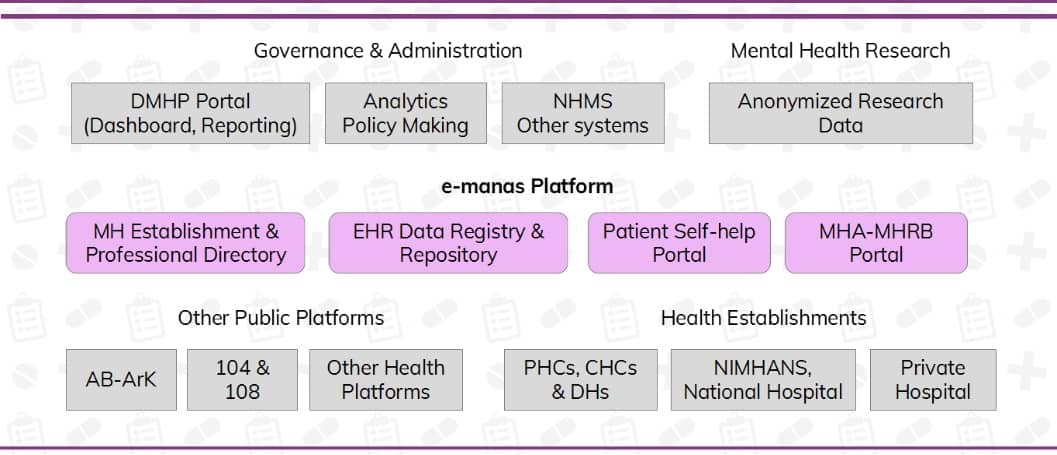 Details of the Samvaad talk
EHRC-Samvaad talk title: Design of e-Manas – Karnataka Mental Health Management System
Speaker(s): The MHMS Team — Prof. T. K. Srikanth and Divya Raj, IIIT Bangalore, and V. S. Dileep, Healthelife Ventures
Time: July 20, 2020 (Monday), 2 pm IST.
Meeting details: ID: 920 8272 0330, Password: 686757
Abstract of the contents of the talk
The Government of Karnataka recently launched e-Manas, a web-based platform for integrating services related to mental health care in the state. This is an initiative of the National Health Mission, Government of Karnataka and NIMHANS, Bangalore, and developed in partnership with the E-Health Research Center, IIITB.
This system includes a state-wide registry of mental health establishments and professionals, and basic health records of their patients, and facilitates compliance with the Mental Health Care Act and other legal frameworks.
This platform incorporates features such as consent-based access to patient records across clinics, integration with identity systems and standards-based EHR. It has been designed with a focus on usability, privacy, and interoperability. e-Manas leverages an openEHR-based platform developed in collaboration with HealtheLife Ventures LLP.
In this talk, the speakers will discuss the motivation for the project, the design and development process, key design considerations and features, system architecture, and the approach to standards compliance.
Biography of the speakers'
Dr. T K Srikanth is a Professor at IIIT Bangalore, where he is a convener of the E-Health Research Center. His research interests are in systems for the management and analysis of healthcare data, data privacy, geometric modelling, and computer graphics. He has a Ph.D. from Cornell University and a B.Tech. from IIT Madras.
Divya Raj is the Head of Programs, E-Health Research Center, IIIT-Bangalore. His areas of interest are large-scale public health and social initiatives and end to end implementations. He has a post-graduate degree from IIIT-Bangalore and a B.Tech from IIT-Varanasi.
Dileep V S is the founder of Healthelife Ventures, a digital health startup incubated at the IIITB Innovation Center. He has been in the clinical information domain since 2012. His areas of interest include EHR standards, clinical data interoperability, and public health systems. He has a B.Tech from Kerala University.
More about e-Manas
The e-Manas, Karnataka Mental Health Management System (KMHMS) has been recently launched by the Chief Minister of Karnataka, Shri B. S. Yeduyurappa on June 26, 2020. You can read more about it from the links below.