Healthathon 2020 – team Healthelife wins with our NDHM bridge on EHR.Network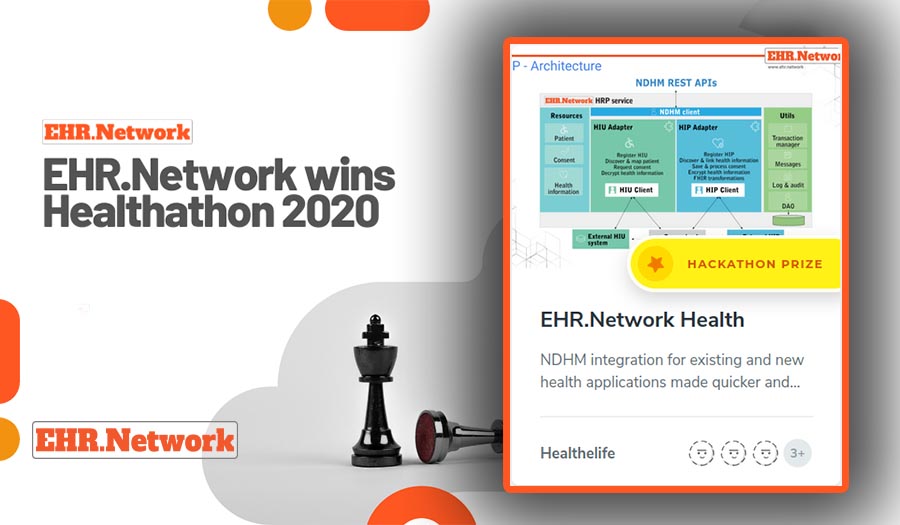 We conceived, built and demonstrated a fully functional NDHM bridge during the Healthathon 2020 to become one of the emphatic winners. The event from Oct 24 to Nov 20, offered four weeks of excitement filled with strategy, unforeseen challenges, jugaad work around and hard work. The win was a perfect and extremely satisfying end result for us.
EHR.Network's endeavor is to create and enable an ecosystem of patient centric Healthcare applications to share computable health information with patient consent. NDHM provides a regulatory framework to make it happen at a national level and the Healthathon provided us an opportunity to showcase our capabilities in this area.
The prelude – getting early access to the NDHM Sandbox
NDHM opened their sandbox to healthcare application developers and startups in August 2020 and we were one of the first to apply for access. We received credentials to the Sandbox as part of the very first batch in September of 2020. The NDHM team followed this up with a series of webinars and discussions, where we were regular participants. There was much excitement and discussions within the team while attending webinars on NDHM building blocks, exploring documentation and reference implementations. We have been looking at the Consent Framework documentation since 2019, and hence the concepts introduced by NDHM were already familiar to us.
In mid September we did a study on consent and data flow on the Sandbox using reference implementations of HIP, PHR and HIU provided by NDHM. We did this in collaboration with DHIndia Association and conducted a webinar in the first week of October to share our findings. This webinar was one of the first similar studies on NDHM and attracted a large number of participants. Please view the recording here
For us the announcement of Healthathon 2020 was like an opportunity that we were waiting for and signed up immediately. It had two tracks – Ideathon and Hackathon – with PHR being the central theme.
Healthathon 2020 – giving wings to EHR interoperability via NDHM
For Healthathon we were a team of 6 that included the founders, EHR.Network platform and application development teams.
After a quick meet, we all agreed that in four weeks, we should take on the hackathon challenge. What theme do we pick? We decided to showcase a doctor facing app that enabled the collection of patient data from different sources for analysis and care. Further, as our core expertise lies in middle ware enabling healthcare developers, we also decided to demonstrate a HRP Service that would enable other healthcare solutions outside of EHR.Network to integrate into the NDHM network. We decided to focus on the HIP interface in the HRP Service for the hackathon.
For quick turnover we explored the reference implementations and decided to go with EKA HIP service. We decided that we will focus on OP consult, Prescription and Diagnostic HI types. We also defined clear cut tasks for each team member to demonstrate interoperability of an application on EHR.Network with NDHM PHR and NDHM HIU Application.
The challenge – bringing the best out of every team member
Over the four weeks spanning the hackathon, we worked on integrating EKA HIP Service with EHR.Network. NHDM HealthID was configured as a ID Proof in the Patient Registry of EHR.Network. New APIs were added to replace EKA static data exchange with dynamic patient identification, care context extraction and mapping health information stored in EHR.Network openEHR repository to FHIR bundles compliant to NDHM profile.
Testing the flow of health information captured on AyushEHR, our OP Clinic application being shared with patients registered on NDHM PHR App and then shared with reference HIU Application from NDHM went through several hiccups. Long hours and many struggles and juggads, finally by the 3rd week of the hackathon, data was displayed on the PHR app – Hurray!
The integration with the HIU app was relatively smoother.
Before we knew it was Wed 18th Nov, we now had to get the recording of the demo done and get ready to submit. Recording, re-recording finally by Friday Nov 20 afternoon we were done with submission.
The outcome – An emphatic win for the team
In the four weeks, as a team we had achieved tangible outcomes. We had the MVP Alpha version of EHR.Network Health Repository Provider (HRP) that would enable existing Healthcare systems to be connected to the NDHM network. The HRP service enabled AyushEHR App on EHR.Network to share patient health data with NDHM PHR App and NHA HIU App. A video of the demo can be accessed here
The results were announced on Nov 21.We were declared one of the three winners of the hackathon. For further details on our submission, please visit https://devfolio.co/submissions/ehrnetwork-health-repository-provider